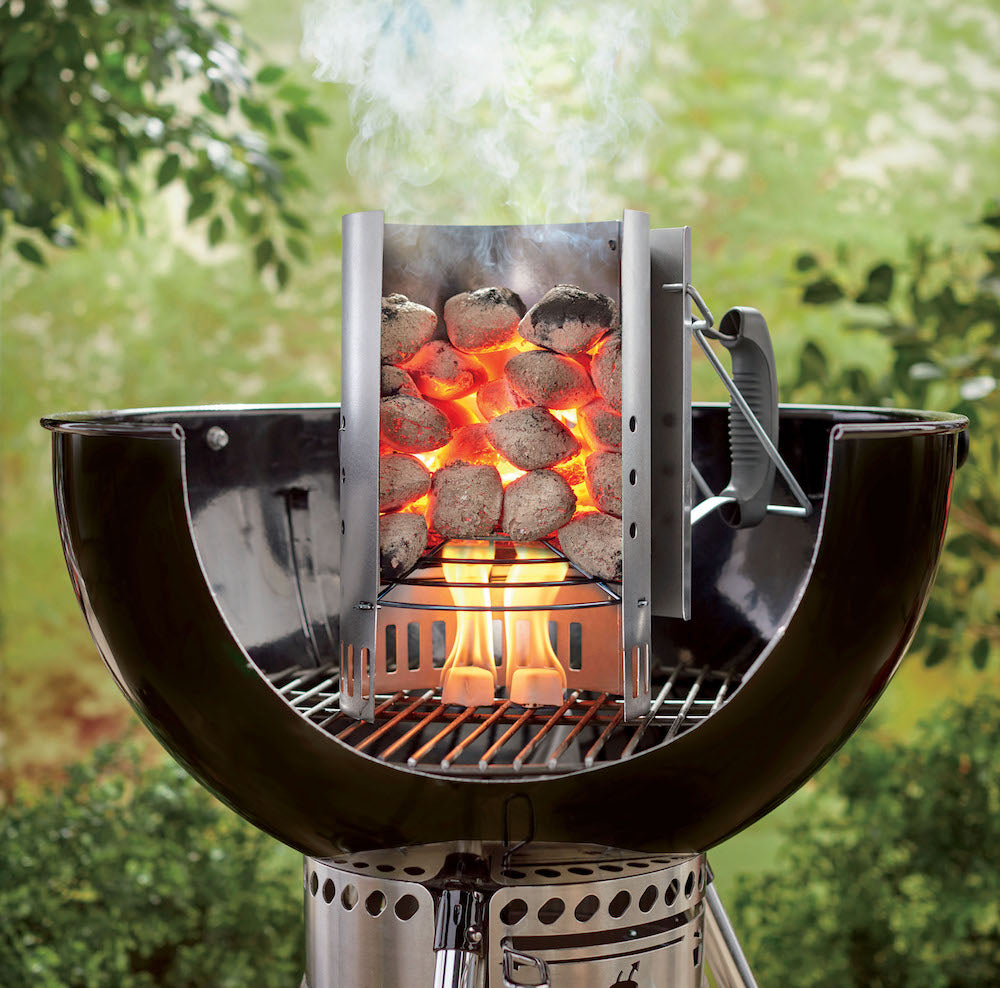 Charcoal BBQ's at the Pavilion in Cork, delivered in Ireland
The Pavilion is one of the largest Weber World & Kamado Joe in Ireland, with the largest showroom in Munster and Cork. Our showroom here in Cork and online, offer a selection of Weber bbq's and a full range of complimenting Weber accessories. We have everything you need to help you immediately get off to the best start with your BBQ'ing experience!
If you can't find what you are looking for or if you don't feel confident about which BBQ suits your needs best, don't worry, we are just a phone call away. Our in-store BBQ specialists are available 7 days each week from 9am to 5.30pm to answer any of your questions. Our specialists have all received in-depth Weber & Kamado Joe training, so they will fully understand the benefits of each BBQ and help you make an informed decision for the best BBQ to suit your needs. So if you're unsure between gas-charcoal-electric, Weber or Kamado Joe, which size to buy etc, we can help you to make a decision tailored to your needs and budget. We also run regular in-store Weber certified cooking demonstrations here in Cork with our Weber certified Chef, David Rice. You also have access to a library of David Rice tutorials which will inspire you to move out of your comfort zone, to cook amazing dishes that you may never have dreamed of on a BBQ. Most BBQs come with 10 years guarantee on the lid, bowl and handles, there is also a 3 year guarantee on the charcoal and cooking grates and other parts. 

BBQ Range delivered nationwide in Ireland
Whether its a portable Weber bbq you're looking for to stick in the boot for trips to the beach, a medium-sized charcoal or gas grill or a large expert grill, we have the full range of BBQ's here at The Pavilion in Cork, you can order online for delivery, click and collect, or if you're nearby, just pop in, we would love to help you begin your best BBQ journey!
Weber Charcoal Barbecues
Weber's Kettle BBQ's are world famous for their shape and have an amazing reputation in charcoal grilling. Their design is timeless and their finish is a high premium standard, exactly what you would expect from a Weber. Weber's charcoal grills are, in most cases, as versatile as their gas cousins, there is definitely a Weber charcoal BBQ suitable for every family!
There are 3 main categories of Weber charcoal BBQ's.
The Mastertouch 57cm range of charcoal BBQ's is the most sought after of the kettle BBQ range. It is uniquely attractive, coming in a variety of colours that will take pride of place on your patio. Weber Mastertouch BBQ's are GBS compliant, therefore accessories such as the Pizza stone and Dutch Oven duo will fit snugly on the grill. The recently added smoke setting also allows you to do long slow cooks such as an amazing slow roast using the Weber rotisserie - there are endless possibilities with the Mastertouch. Packed with user friendly features such as the Weber One Touch Cleaning System, ash catcher and tuck away lid, Weber have thought of everything. The built in lid thermometer allows for constant monitoring of the temperature within. You also have the option of buying the Mastertouch BBQ with fitted cart on wheels - The Performer series. This cart features a work table, side bin and storage underneath and even handy hooks for your utensils. 
If you are new to BBQ'ing, you also have the option of choosing a 47cm compact Kettle BBQ.
The revolutionary chimney starter guarantees that igniting your coals is so easy and the lighter cubes are chemical free. The chimney starter takes the work and apprehension out of lighting the BBQ allowing you to enjoy your grilling occasion. We would definitely recommend a chimney starter for your new Weber charcoal grill.
The Smokey Mountain Cooker is another range charcoal BBQ. It comes in a 37cm, 47cm or 57cm. It's the leader in its field for slow cooking. If you are serious about smoking food outdoors, the smokey mountain cooker is definitely an option for you. Cooking time on the smoke Mountain is slow, up to 18 hours. The results are mount watering!
Kamado Joe Grills
Kamado Joe Grills are crafted to perform better and last longer. They are uncompromising in their standard of quality, from the beginning of the design process right through to construction. Kamado Joe is a trusted brand for exceptional grilling, known and respected world wide for its quality, durability, heat retention and flavour. 
Kamado Joe replicates wood oven cooking, the design allows for perfect airflow which results in evenly distribution of heat and flavour. Kamado Joe are ceramic grills, available in a range of sizes so you can find the perfect size for your needs.